1,000 Books Before Kindergarten
presented by Hewitt Public Library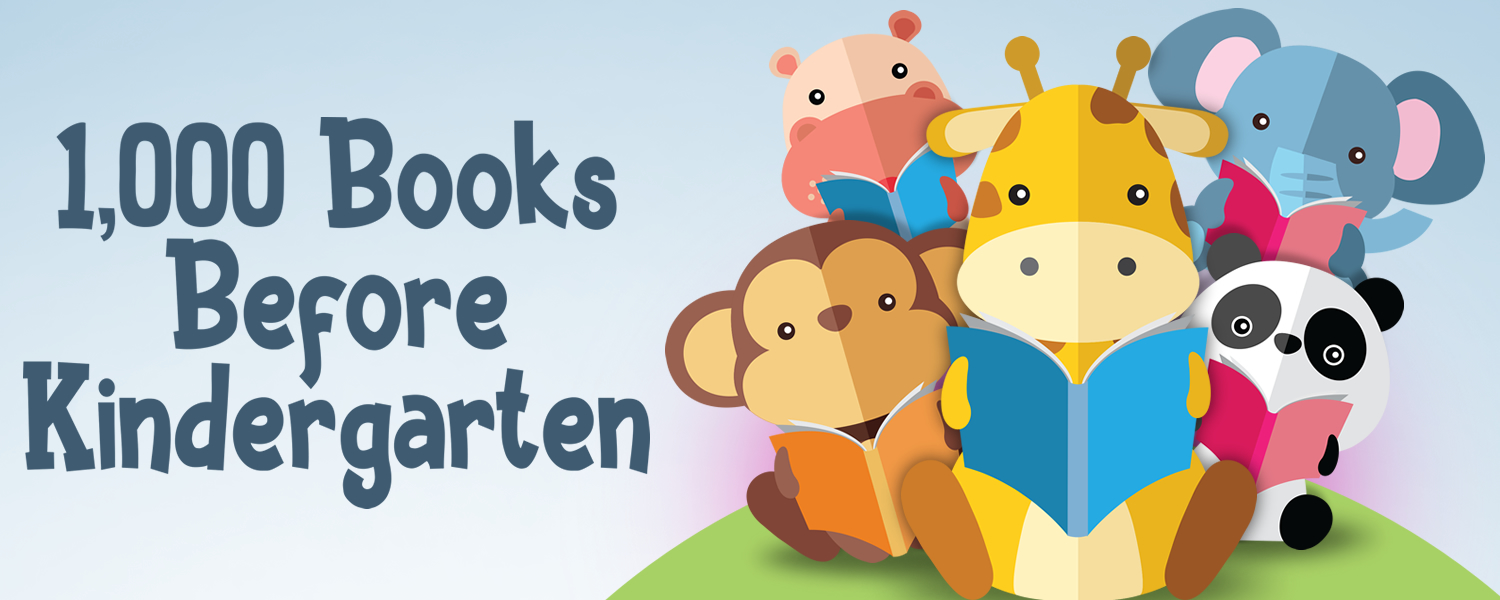 What is 1000 Books Before Kindergarten?
1,000 Books Before Kindergarten is a program designed to help parents prepare their children for one of life's big milestones: entering Kindergarten. Research has shown that children get ready to read and engage in mathematical thinking long before they enter school. An excellent way to prepare your child to learn to read is simply to read to them! An excellent way to develop math skills is to engage them in "math talk" and mathematical representation.
Why should your family participate in 1,000 Books Before Kindergarten?
ENGAGEMENT WITH YOUR CHILD
You are your child's first teacher. Your home is where your child begins to learn. When you talk, sing, read, write, and play you are preparing your child to be a reader and to enjoy mathematical exploration!
View the Hewitt Public Library 1,000 Books Before Kindergarten video links below for helpful hints and explanations of how to best utilize the backpacks!
BRAIN DEVELOPMENT
Numerous studies have established that by age three, a child's brain has reached 80 percent of its adult volume. The brain develops most rapidly during the first 1,000 days of a child's life. A toddler's brain creates up to two million new connections every second. Early experiences and interactions are a key factor in a child's brain development.
1,000booksbeforekindergarten.org
LITERACY DEVELOPMENT
Language and Pre-Reading Skills
The ability to learn language skills is greatest before the age of six. Early literacy skills have a lifelong impact on educational and occupational success. The most important predictor of school success is being read to at home during early childhood.
1,000booksbeforekindergarten.org
Math Skills
There are also studies that show the richness of math language to which children are exposed is correlated with future school success and that there is great value in developing early math skills for school readiness and later achievement. So, the conclusion is the more exposure to math-oriented activities along with parents engaging in "Math talk" with their children before kindergarten, the better they'll understand math in school.
Eason & Levine Dreme Math Stanford Univ.
LOVE OF READING
Reading with your child and making it a special time together shows them that reading is valuable and enjoyable. You can start to develop a love of reading in your child from a very young age!
LOVE OF MATH
Playing with your child using the math manipulatives and materials can also be a special time together that is valuable and enjoyable. Through play you can promote a love of math without your child even realizing it!
APPRECIATION FOR THE LIBRARY
By coming to the library together you can show your child how the library works, help them gain an appreciation for the wide range of materials available, and get recommendations for books that can broaden your child's interests.
| Child's Age at start of 1,000 Books Before Kindergarten Program | Number of books to read per day to complete 1,000 books before Kindergarten | Number of books to read per week to complete 1,000 books before Kindergarten |
| --- | --- | --- |
| 0 Years Old | 1 | 4 |
| 1 Years Old | 1 | 5 |
| 2 Years Old | 1 | 7 |
| 3 Years Old | 2 | 10 |
| 4 Years Old | 3 | 20 |
How to Participate
Register for 1,000 Books Before Kindergarten

After signing in and creating a READsquared account, you will need to register for the 1,000 Books Before Kindergarten program.

Registration is easy. First, register yourself, and then add any additional family members as readers. This makes it easy to keep track of all your family's reading time on one account.

You can register into multiple programs by going to Account>Add Reader or Program. Registration is necessary into each new program as the registration fields can vary by program.

If you do not register, you cannot log reading, earn badges, Brag Tags, or prizes.

Log-in books read to earn badges and prizes.

Remember for the 1,000 Books Before Kindergarten Program, the only books eligible are the ones from our backpacks. Keep track of how many books you read and log them in our online or app trackers.

Breakdown of Books Read and Prizes

Number of Books Read
Digital Badge
Brag Tag
Prize*
50
X
100
X
X
150
X
200
X
X
250
X
300
X
X
350
X
400
X
X
450
X
500
X
X

500 Books Read Printable Certificate
1 Reading Buddy (stuffed animal of child's choosing)

550
X
600
X
X
650
X
700
X
X
750
X
800
X
X
850
X
900
X
X
950
X
1,000
X
X

Certificate of Completion
A 1,000 Books Before Kindergarten Book Bag

*Brag Tags, the stuffed animal, Certificate of Completion, and the Book Bag are to be picked up at Hewitt Public Library

No Internet Access? No Problem

You can keep track of the books read through a paper log. Visit with a library staff member to help enter information into your child's log.
1,000 Books Before Kindergarten FAQs
Any child, birth-5 years, who has not yet entered Kindergarten may participate in the program.

Anytime! This is a year-round program.

Books from our 1,000 book backpacks.

No - you start fresh when you start the program.

The books selected for inclusion in our program were carefully chosen and put together so that each time you take home a backpack your child will be exposed to a range of topics, genres, and types of children's literature. The specific types of children's books included are: ABC books, Color Books, Board Books, Nursery Rhymes, Fairy Tales, Folk Tales, Early Readers, all types of Fiction, and all types of Non-fiction including biographies and an emphasis on STEM (Science, Technology, Engineering and Mathematics).

Our backpacks provide exposure to different types of literature and enriching vocabulary for the entire family. Have you ever heard the phrase, "To teach is to learn twice?" Through your reading of the various literary genres, you will be exposing your children to rich language and be reminded of things you may have learned long ago, or even learn things you never knew! For some of the nonfiction books, we encourage you to stick with them until the end, understanding that although your little one will only be able to listen to small parts at a time, there is great value for you to read it through. We hope you will enjoy being reminded of your childhood from the nursery rhymes to the stories of great people and events of our history, and interesting topics explored in the other non-fiction books provided.

On signing up for our 1,000 Books Before Kindergarten program, you will receive a packet of materials to take home with you. This packet is filled with materials to use with the counters we include with our backpacks. Some of the materials are specific to certain counters, and some can be used with all of them. Explanations will be in the packet. Each backpack comes with 15 counters. View the videos in the links provided under the "ENGAGEMENT WITH YOUR CHILD" section of this website for specific instructions.

Since some of the counters are small, and could be a choking hazard, the counters are to be used with adult supervision only. The counters will be sanitized upon the return of each backpack.

Your child will receive a "Digital Badge" for every 50 books read and a "Brag Tag" for every 100 books read. At 500 books, they will receive a stuffed animal and a certificate, and at 1,000 books, they will receive a "Certificate of Completion" and a "1,000 Books Before Kindergarten" Book Bag.

See the table under the "How to Participate" Section, Step 3.

*Brag Tags, the stuffed animal, the Certificate of Completion, and the Book Bag are to be picked up at Hewitt Public Library